Ciao ragazzi, ebbene dopo un pò di tempo son tornato per mostrarvi ciò che in fretta ho potuto creare per una mini recensione dell' Artic Cooler Freezer 13 CO che ho montato giorni fa (di fretta e furia)
cominciamo:
(copio direttamente dal sito, quindi Copiright a loro)
Freezer 13 CO
Intel / AMD CPU Cooler for Enthusiasts
Ultra Quiet CPU Cooler with Overclocking Headroom
"Quality wise, ARCTIC has always kept the standards high and the Freezer 13 CO is no exception."
"It's one of the easiest coolers to install."
"Excellent cooling performance with low noise level..."
Superior Cooling Perfomance
A 92 mm PWM fan in combination with double-sided 6 mm copper heatpipes and a 45-fin heatsink enable the Freezer 13 CO to deliver high performance and improve heat transfer from the CPU. It excels in cooling efficiency in a Hexus comparison review with the stock cooler as well as competitors.
Cooling Performance on Intel Core i7-3770K (Full Load)
Freezer 13 CO
41.9 °C
Noctua NH-U9B SE2
42.5 °C
Thermaltake Contac 39
42.8 °C
Boxed Cooler
61.2 °C
Better
Delta temperature, stock clocked, 3.5GHz, 1.17V; Tested with Prime95 small FFT
Data Source:

Low Noise
Freezer 13 CO is one of the quietest coolers in the market, according to a test by Hexus.

Thanks to the PWM control, the fan speed adjusts according to the CPU temperature and thus the noise level remains at an absolute minimum which qualifies it as a silent cooler. Click here to see how the PWM control settings can be changed according to your performance and noise preference.
Noise Level on Intel Core i7-3770K (Full Load)
Freezer 13 CO
41.1 dBA
Noctua NH-U9B SE2
43.6 dBA
Thermaltake Contac 39
49.7 dBA
Better
Tested with PCE-318 sound meter
Data Source:

Multi-compatibility
Freezer 13 CO features wide compatibility with AMD and Intel sockets. Its simple mounting system is designed to fit all current CPU platforms. It is compatible with AMD Sockets FM2, FM1, AM3+, AM3, AM2+, AM2, 939 and 754; Intel Sockets 1366, 1156, 1155 and 775.
Intel Mounting
AMD Mounting
Continuous Operation
Easy Installation
The CO version is ideal for PCs under non-stop operation such as servers. Its Japanese dual ball bearing reduces rotational friction considerably as it is significantly less sensitive to dust and high temperature. Hence it is up to 5 times more durable than other bearings.
The unique push-pin mounting system offers a hassle-free installation in minutes and excellent stability. Its fibre reinforced retention module is strong enough to make PCs with this cooler transportation proof. The pre-applied ARCTIC MX-4 high performance thermal compound shortens installation time further.


TECHNICAL DATA
Compatibility
Intel Socket:
1366, 1150, 1156, 1155, 775
AMD Socket:
FM2(+), FM1, AM3(+), AM2(+), 939, 754
Max. Cooling Performance:
200 Watts


Heatsink


Heatpipes: Ø 6 mm x 4
Aluminum Fins x 45 (Thickness: 0.5 mm)


Fan




Diameter:
92 mm
Fan Speed:
600 - 2,000 RPM (Controlled by PWM)
Noise Level:
0.5 Sone @ 2,000 RPM
Current / Voltage:
0.18 A / 12 V
Power Consumption:
2.28 Watts


Size & Weight

Dimensions:
123 (L) x 96 (W) x 130 (H) mm
Net Weight:
690 g


Packaging & Box Content

Dimensions:
126 (L) x 103 (W) x 140 (H) mm

Shipping Information
Item Number:
UCACO-FZ13100-BL
UPC:
0872767004436
Gross Weight:
800 g


Warranty
IMMAGINI
https://www.flickr.com//photos/12679...41119175/show/
VIDEO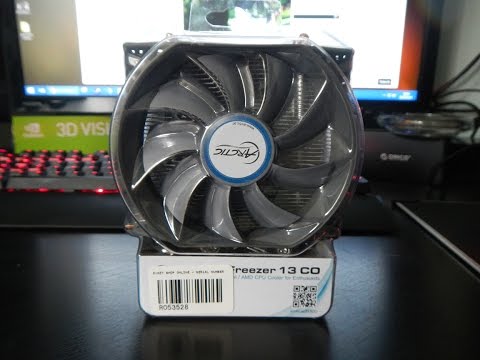 chiedo possibilmente la cortesia di abilitare
l'html, cosicchè possa immettere lo slideshow delle immagini Flikr.